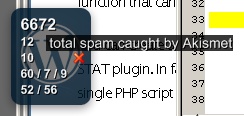 Here is the Yahoo widget that I created . It's my first Yahoo! Widget and it is for WordPress Blog Stats Monitoring.
Features
Basically it shows below six information of your WordPress blog.
Total number of spams caught by Akismet
Number of spams in moderation
Number of comments in moderation
Number of posts
Number of comments
Number of categories
Optionally number of unique hits for today and yesterday only if wp-shorstat or wp-slimstat plugin is installed.
The below image is the About menu of the Widget.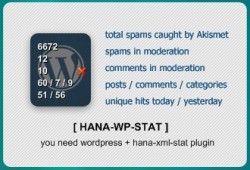 Requirements
You do have Yahoo! Widget installed , right?
You must have a WordPress Blog.
You need to install and enable HANA-XML-STAT plugin that I created
You need to enable Akismet Spam Blocker plugin. In fact, you don't have to enable it , but then you won't be able to see the related statistics.
Optionally, you might want to install wp-shortstat or wp-slimstat for hit counter.
History
10/22/2007 – v0.4
Some bugs with XMLDOM routines so errors occur when there is no child node exists (No values)
v0.3
DockIcon Function Added for Yahoo! Widget Version 4. Akismet, Comment in moderation, Hit counts are displayed.
v0.2
Initial Release.
Download HANA-WP-STAT Widget v0.4
Install & Setup
Download and double click the 'hana-wp-stat.widget' to open the widget. You will see the popup window to set the wordpress URL in the preferences menu.
Open preference menu and provide the URL of your wordpress. Please make sure that you need to set the correct wordpress URL. The prefix 'http://' is needed, too.
WordPress Userid & Password are required only if (1) you want to use the 'Recheck comments for SPAM' menu or (2) if you set 'hana-xml-stat' wp plugin option for only signed in user to access the data.
By using Update Interval Slider , you can set the time period that the widget will acesss the statistics data. The default is 1 min, and the maximum value is 60 mins which is an hour.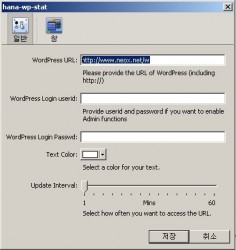 Some Notes
When there are some comments in moderation, you will be able to use 'Recheck comments for Spam' menu. ( Or little red 'X' icon ) What it really does is to check the comments with Akismet again.
It is found that there is a time that some spams fall into the comments moderation section when the Akismet plugin timeouts connecting to Akismet spam server. It usaully happens when the network is slow and busy.
So by just checking again, you can make sure that there is no spam lurking in your comments moderation box.