I will introduce best 5 free Add-in and utilities for Microsoft Outlook.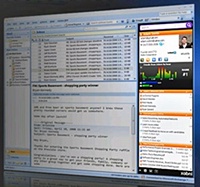 1. Xobni
Microsoft Oulook Plug-in Xobni is one of the best Free Add-ins that provides various useful functionalities. It organizes all data based on a person's profile showing all the email conversations and the list of attachments and even extracts contact numbers from the email signatures. Of course, it is not always 100% accurrate but very impressive. There are other functions such as Facebook feeds and Linked-in integration.
It is very useful and powerful add-in. If you have many emails and can't find it but you know who sent it, Xobni is the answer.
Website: http://www.xobni.com/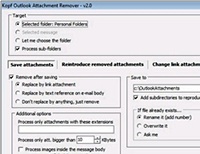 2. Outlook Attachment Remover Add-in
Have you ever get tired of the slow and bulky Outlook Inbox folder? Your Inbox is too big that the Outlooks is so sluggish and crashes all the time. It's time to reduce the size of your Outlook data file. But how? You don't want to go through all the emails and delete the files one by one!
Free 'Outlook Attachment Remover' add-in is for saving and extracting attachments, decreasing the size of your Outlook data file. It's very easy to use. You can extract all the bulky attachments and save into local hard drive. Then delete them from the Outlook data file which
will make Outlook run faster again. Make sure to compact the PST files after doing this to reduce the file size!
Website: http://www.kopf.com.br/outlook/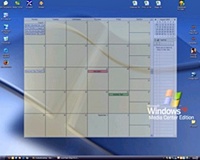 3. Outlook on the Desktop
Are you a fan of Outlook Calendar? Then you might want to try 'Outlook on the Desktop'. It shows Outlook Calendar in the Desktop screen providing easy access to the entries. You can edit and drop files directly on it just like the Outlook.
Website: http://www.outlookonthedesktop.com/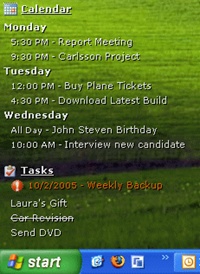 4. DeskTask
Similar to Outlook on the Desktop, DeskTask shows Calender appointments and Task items on the Desktop but as list. This is just to view only, unable to modify the entries from the Desktop. But clean and simple. You can use 'Win+D' key to see the Desktop easily by minizing all the active windows.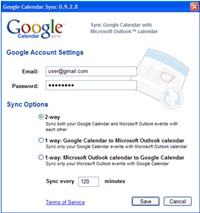 5. Google Calendar Sync
Of course, if you are using Outlook Calendar and other hand-held portable devices, there is high chance that you also use Google Calendar. And this sync utility from Google is a must to have to sync data between Outlook and Google Calendar. You can control sync from the Windows Tray Icon. Simple and Nice.
Website: Google Calendar Sync Website
There must be more good free utilities out there. As soon as I find them I will make sure update this list.
Total Workday Control Using Microsoft Outlook is a book for the over-extended office worker whose workday feels out of control.
Thank you for visiting Hana & Sarah's Freeware Blog.