Website: http://tokyodownstairs.blogspot.com/2007/11/winflip.html
Direct Download: http://www.tokyodownstairs.com/binary/WFlip042.zip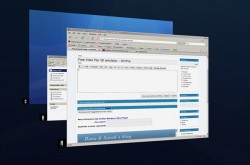 Here is another Flip 3D emulator for your XP.
This one is actually better than Shock Aero. (Here is my previous posting on Shock Aero. The Shock Aero has become too heavy and slow. It also requires serial number that you can get from the developer's homepages. But it's just an unnecessary extra step as a freeware.)
WinFlip is light and fast, it requires DirectX9.0c. But you should already have it in your XP.
Pros
It doesn't require setup. You can execute after unzip.
WinFlip is light and fast.
Showing Alphabet letter besides each window to directly access it.
The short cut is Window + Tab but you can also trigger the Flip screen by mouse movement. If you make a circle movement with your mouse, the Flip screen is shown. That is very neat and kind of addictive. These setup can be changed from the options.
Cons
It's unstable. If you open lots of windows and application, WinFlip becomes unstable and crashes.
If you love Vista's Flip 3D, WinFlip maybe the best freeware solution for you but note that it becomes unstable after several hours. But let's hope that they fix this problem soon. Until then, I decided to remove the winflip from the startup menu.