Hello, Thank you for visiting my blog. There are many free software out there and they can be wonderful tools that can make up the missing parts of the default Windows XP or Vista. I would like to present them in my blog so we can all enjoy the free stuff together!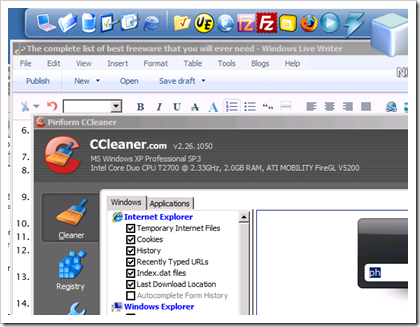 It has been awhile since I posted the last article. I was busy setting up my new website http://wpmarketing.org . Anyway, I stumbled this introduction page of free desktop application from lifehacker , my favorite DIY site. I am using many of the list, and love to tell which ones I am using. I will mark them with Red Color.
Okay, I only use 21 programs out of 61 listed. But here are some of terrific freeware that I am using, but not mentioned on the list.
That's about it for now. I will update the list if I find good ones worth to mention.
Thank you and enjoy!
LiberKey – Updatable Portable Software Package with more than 200 freewares.
I am a big fan of portable application and probably PortableApps.com is the most well known portable application suite. It presents about 70 freeware application as portable apps.
However, LiberKey's Portable suite has comprehensive list of 202 freewares and worth to give it a try.
LiberKey of freeware packages are distributed as portable so that they can be used without the need for the installation. They presents three types of downloads – Basic, Standard, Ultimate. Each distribution package contains 28, 106, and 202 freewares.
Benefits of the portable programs are, of course, you can store them in a USB stick and bring anywhere you want and use them right away without installation.
If you use LiberKey package, it allowed you to update the software whenever there is a new version is available.
This is a very big image.



Read the rest of this entry »