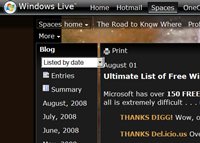 Did you know that Microsoft provides many free software ? Blake Handler has gathered all in his live website. This is so amazing . There must be more than hundreds of free software on that list!
The ones that I am currently using are
Alt-Tab Replacement: showing the preview image of each application. It is nicer than the default Alt-Tab, but much lighter then other Alt-Tab applications
Clear Type : You have to use this . The screen is a lot clearer and I just can't live without it.
Tweak UI
Process Explorer: originally developed by Sysinternals . It is a must utility if you want to know detail information about the processes that are running on your desktop.
There is a free Microsoft word too! Word 5.5 for DOS ! 🙂
Also there are free development tools available. Of course they are somewhat limited in functionality compared to the commercial version, but they are really great!
SQL Server 2005, SQL Server 2005 with Advanced Services
Visual 2005 Web Developer
Visual Basic, C#, C++, & J#
Ultimate List of Free Windows Software from Microsoft
For Office 2003
For Office 2007
Just great!