Site: http://www.microsoft.com/technet/sysinternals/default.mspx
You may already know this package of free system utilities. Originally SysInternals was a website with developers providing free windows system utilities. I guess it was bought by Microsoft at some point.
There are lots of useful utilities in the SysInternal. However, not all utilities are attractive to you since some of these are strictly useful for IT person or Software Developers. There are also many familiar shell utilities if you come from UNIX (du, whois, strings)
But here are the three most interesting utilities to me.
Process Explorer : Process monitor that shows related files, registry keys, loaded DLL files ,company name and. You can easily see what's going on in your computer.
Autoruns : shows complete list of auto startup programs.
ZoomIt : Powerful presentation tool. You can zoom and draw lines on the screen. Ctrl + 1 will start the screen zoom by default. Zoom In and Out can be done with the mouse wheel.
This is a Process Explorer in action.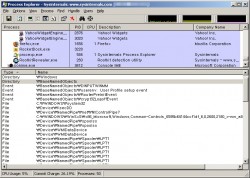 There is a fun screen saver too. Blue Screen screen saver simulates the blue screen of Windows System Crash. It is very similar to the real one and it even shows reboot screen!