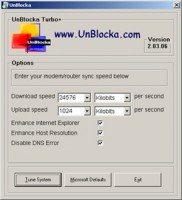 Few days ago, my friend told me about this simple utility that makes the Internet connection much faster.
I usually don't believe in these kind of system enhance utilities. They usually are very confusing because of lots of controls and options. And most of the time, it is hard to notice any improvements.
But I decided to give a little try.
When you visit the website(http://www.unblocka.com), there is this statement in his website.
The Windows operating system is not configured by default to take full advantage of modern high speed international high latency broadband connections.

UnBlocka will tune the Windows computer to the optimum values based on the type of internet connection that you have e.g ADSL2+ or Cable
The download is a simple executable that you can execute without installation.
And the options are very simple. You can just select the download and upload speed that you want and click on the "Tune System" button. It doesn't mean that you can actually obtain that speed indicated since there is physical limitation.
Then, I was required to reboot the system for the changes to be effect.
I did several tests in order to measure the enhancement
First I did download a large Fedora Linux ISO file into my desktop computer and compared the speed before and after the unblocka execution. It was amazing, the speed was increased by 30 ~ 50 % .
And then I retried the similar downloading test in the laptop which is using wireless at home. The speed enhancement is clearly visible as it was with desktop. However, at some point, the Internet connection suddenly dropped and I had to reboot the Internet router that I bought few years ago. Maybe my old router was not able to handle the modification. I don't know what went wrong. I experienced several dead connection afterwards so I had to return the setting to original state.
You can easily return to the original window settings by click "Microsoft defaults"
Unblocka says that it modifies the TCP related values in windows registry.
In general, unblock is easy to use and actually enhances the Internet speed. However , it appears to be little bit unstable with old devices.
If you are using desktop and cable internet service, I definitely recommend you to try this great utility.
WEBSITE: http://unblocka.com
DOWNLOAD: http://unblocka.com/Default.aspx?tabid=52