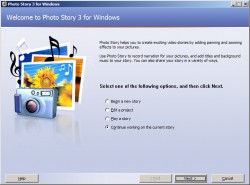 Microsoft provides several useful freeware utilities in its download website. PowerToy series is the most renounced utilities, but also there are some user friendly multimedia softwares such as PhotoStory 3.
PhotoStory 3 is a wizard program that let users to create a wmv movie file with a set of images.
You can
edit , rotate, or enhance image quality
apply special image effect.
insert text message at the position you want (top , middle, bottom , left, right , center)
define custom motion or transition effect. The program automatically set transition upon importing images.
record and insert your narrative voice anywhere you want.
set a background music using an existing music file or a generated music from a predefined set of customs musics.
It is very user friendly and provides preview button in each step for easier preview.
Selecting images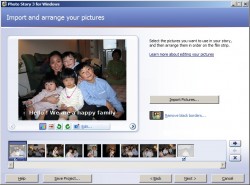 Here is the sample file that I made LINK It's only about 1 MB. Enjoy. 🙂
Here is the website for you to download PhotoStory 3.
http://www.microsoft.com/windowsxp/using/digitalphotography/photostory/default.mspx