At work , I deal with lot of files stored in my local hard drives. And it's very important for me to organize these files properly. So I would not do the same task – creating the same reports – over and over again.
But with so many folders and sub directories, it is virtually tiresome for me to search the right folder every time I open an Explorer Window.
However , with the help of these three freeware utilities, Now it's quick and easy to find the right folder. Efficiency has increased 200%.
In the below image , the right column icons are all actual folders.


1. iColorFolder
This utility lets you change the folder icon and its color. By default you are required to select the folder icon styles ( Aqua, Mac OS X, Vista , Windows XP) and you can change the color of the folder icon. Therefore, it helps me to distinguish each folder with different importances and classifications.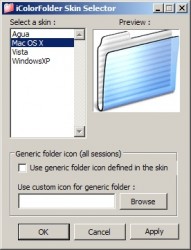 You can change the icon by right mouse click on the folder.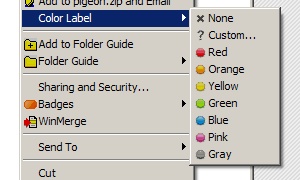 DOWNLOAD : http://icolorfolder.sourceforge.net/download_icolorfolder_page.htm
2. Shedko Badges
This program allows to show small emblem icon over the Windows Icon. There are 10 different types of icons you can mark. This program is not confined to Folders. It can apply the emblem icon to any Windows file and folders.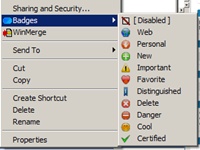 DOWNLOAD : http://eng.softq.org/badges.htm
3. Folder Guide 1.1
This program allows you to setup the favorite folders to appear in the right mouse context menu of Windows Explorer.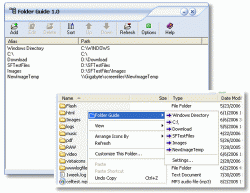 DOWNLOAD: http://www.freeware365.com/desktop/folderguide.htm
All three utilities are also perfectly working in the Open/Save File Dialogs.