I have been searching for some good free video format converters for a while. I have actually installed and tried in my desktop PC. The results were astonishing! Some of them do work better than the commercial ones.
Most of them are based on the FFmpeg LGPL software and other open source utilities. FFmpeg is a great piece of software, but it contains only console commands and does not come with any fancy Graphical User Interfaces (GUI). Basically these freewares that I will initroduce act as a the front GUI for FFmpeg. So FFmpeg is not for a casual innocent PC user.
I tried several freewares. Some are worthless to mention and some are very nice. There are the three finalists.
MediaCoder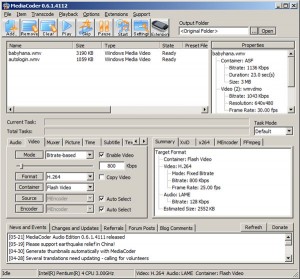 This is probaly the most powerful video format converter with the every options that you will ever need.
You can drag and drop the source files just like Any Video Converter. And you can play around with the option contol in the lower pane. Note that it shows nice little summery of the output file format and expected size if you click on the 'Summery' tab. When you're done with changing the options, you click on the 'Start' Button to execute the conversion. The output file will be created in the same folder where the original source file is located by default.
Here is the description from the website.
MediaCoder is a free universal batch media transcoder, which nicely integrates most popular audio/video codecs and tools into an all-in-one solution. With a flexible and extendable architecture, new codecs and tools are added in constantly as well as supports for new devices. MediaCoder intends to be the swiss army knife for media transcoding in all time and at this moment, it already has millions of users from 170+ countries all over the planet.
And Here are the supported formats ( * supported as input only)
MP3, Vorbis, AAC, AAC+, AAC+v2, MusePack, Speex, AMR, WMA, RealAudio, mp3PRO*
FLAC, WavPack, Monkey's Audio, OptimFrog, AAC Lossless, TTA, WAV/PCM, Waveform
H.264, XviD, DivX, MPEG 1/2/4, Theora, Flash Video, Dirac, 3ivx*, RealVideo*, Windows Media Video
AVI, MPEG/VOB, Matroska, MP4, PMP, RealMedia*, ASF, Quicktime*, OGM*
CD, DVD, VCD, SVCD, CUESheet*, HTTP*, FTP*, RTSP*, UDP*
When I tried to convert wmv to avi, it did work fine. But when I tried wmv to flv conversion. ffmpeg.exe has crashed and MediaCoder did not respond properly so I had to close it.
Interface: 7 of 10
Easy to use: 5 of 10
Available functions/options: 10 of 10
Stability: 6 of 10
To Flv conversion: Didn't work

Final Verdict

: It's OK if you want to control all the details of the output video.