Hana Outlook Folder Search (HOFS)
Free Outlook Folder Name Search Utility & Duplicate Email Remover (Deduper) for Microsoft Outlook 2003 and 2007. It helps you to find the particular folder and also list similar folders for easy access. Are you looking for other Addins? Here are other Free
Outlook Add-in
.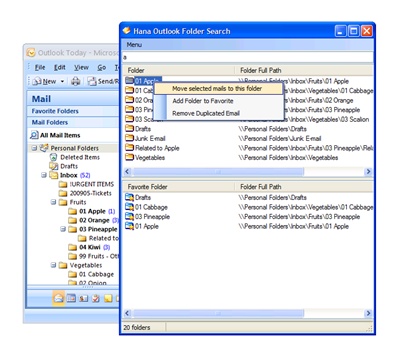 What is Hana Outlook Folder Search (HOFS)?
HOFS is a Dot Net 2.0 Application that will access Microsoft Outlook application interface to help you orgnize emails. Especially, if you receive many emails and maintain extensive list of email folders, this software will help you find the folder name quickly and reduce the time to manage your emails.
I am receiving more than 100 emails everyday and try to maintain clean Inbox by organizing the emails and moving them to the corresponding catagorized email folder. For each email that I receive , I have to browse through the existing Outlook folder tree to look up the exact folder that the mail is belong to. However, with more than 500 email folders, this task becomes the major headache. So I really wished that there would be a software out there that would help me. But I couln't find any.
So I started to research and spent some time to develop a simple utility that can list up the folders when I type in few letters. And I think the result is quite nice and better than I expected. So I decided to share it with you all.
Requirements
OS: Windows XP, Maybe Vista (Not sure about Vista 64)
Dot Net 2.0 (and up) must be already installed. If you are using Windows 7, required version is already installed. In case you don't have one, Dot Net 2.0 Download Link
Microsoft Outlook 2003 and 2007 (and higher version) . Even though I haven't tested with 2010, I am sure this will work.
For MS Outlook 2007 or Windows 64bit OS, You need to download special 2007 zip version.
If you are using Outlook 2007 and up or 64 bit version of Windows, you need to use Outlook 2007 zip version here. It's a simple zip file that you can unzip into a folder and start to use it.
Updated (3/29/2011) : I strongly advise you to download this 2007 zip version as of now. I just recompiled it to work under Windows 7 64bit. I am sure it will work under Vista 64bit too.
Installation
It's a windows installation MSI file.
There is also Zip file available.
Just unzip and use it. If you are using Outlook 2007 and up or
64 bit version of Windows
, you need to use
Outlook 2007 zip version here.
It's a simple zip file that you can unzip into a folder and start to use it.
Screen Cast - Check before downloading it.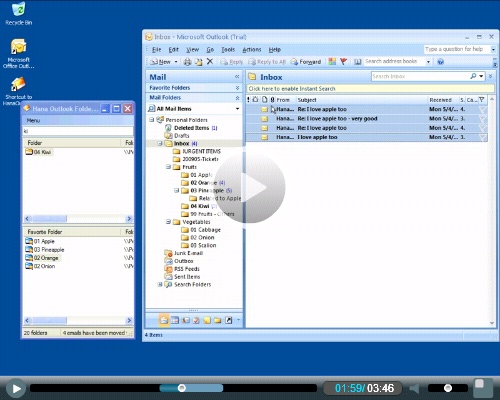 Screen capture of HOFS in action. It is recommended to veiw in full screen mode.
Features
Type in few letters of the folder name and HOFS will list up the folder names which contains the keyword. The keyword search is case insensitive. Once you find the folder, you can move the currently selected email from Outlook to the folder by drag and drop or using short cut keys (Ctrl + V) after you select the folder from the listview control.
HOFS can show the full folder path, so you can easily locate the actual folder in the Outlook 'All Mail Folders' pane.
You can move the popular folders to the Favorite Folder listview located at the lower section by drag and drop. The list is stored in the local disk and loaded whenever the application is executed.
Docking & Hiding: You can dock the application on the left or right side of screen and once it is docked, it disappears to the side, so the HOFS would not block the screen view. You can easily see the applicatoin again by moving your mouse pointer on the minimized handle. You can currently dock either left or right side of the screen
You can turn on the 'Window Show on Top' option , so the window will always be showing during the drag and drop operation.
Duplicated Email Removal: Last but not least, there is another option named 'Duplicate Email Check and Delete'. I receive many duplicated emails and it is time consuming to open one by one just to find it is a duplicated one. So by enabling this function, HOFS will automatically check for duplication whenever there is a new email by checking the Message-ID header and compare it to the other emails in the Inbox received during the last 48 hours. (I'm using Message-ID email header to check if the new mail is duplicated.)
License - Freeware
By downloading and/or using HOFS, you are agreed to the below terms and conditions.
HANA OUTLOOK FOLDER SEARCH (HOFS) IS PROVIDED "AS IS" AND WITHOUT ANY WARRANTY AS TO MERCHANTABILITY OR FITNESS FOR A PARTICULAR PURPOSE OR ANY OTHER WARRANTIES EITHER EXPRESSED OR IMPLIED. THE AUTHOR WILL NOT BE LIABLE FOR DATA LOSS, DAMAGES, LOSS OF PROFITS OR ANY OTHER KIND OF LOSS WHILE USING OR MISUSING THIS SOFTWARE.
FAQ
Q. Can I create, rename, move, or delete the folder within HOFS?
A. No, you cannot create, rename, move, or delete the Outlook folder or its folder structure within HOFS.
Q. I just renamed,created, or deleted a folder in Outlook but the change is not showing in HOFS. What's wrong?
A. If you renamed,created, or deleted a folder within Outlook , you will need to run the 'Refresh Outlook Folder List' from the menu manually in the HOFS. Just couldn't find the best way to refresh automatically yet. I am working on this though.
Q. I can't undo the email move.
A. The undo function has not been implemented. It will be soon.
Support the development
Your donation will be used to support the development of HOFS such as web hosting and development tools purchasing. Thank you!
If you have any questions or bug report, let me know any time.
For other great Outlook utilities, check out other free
Outlook Add-in
softwares.